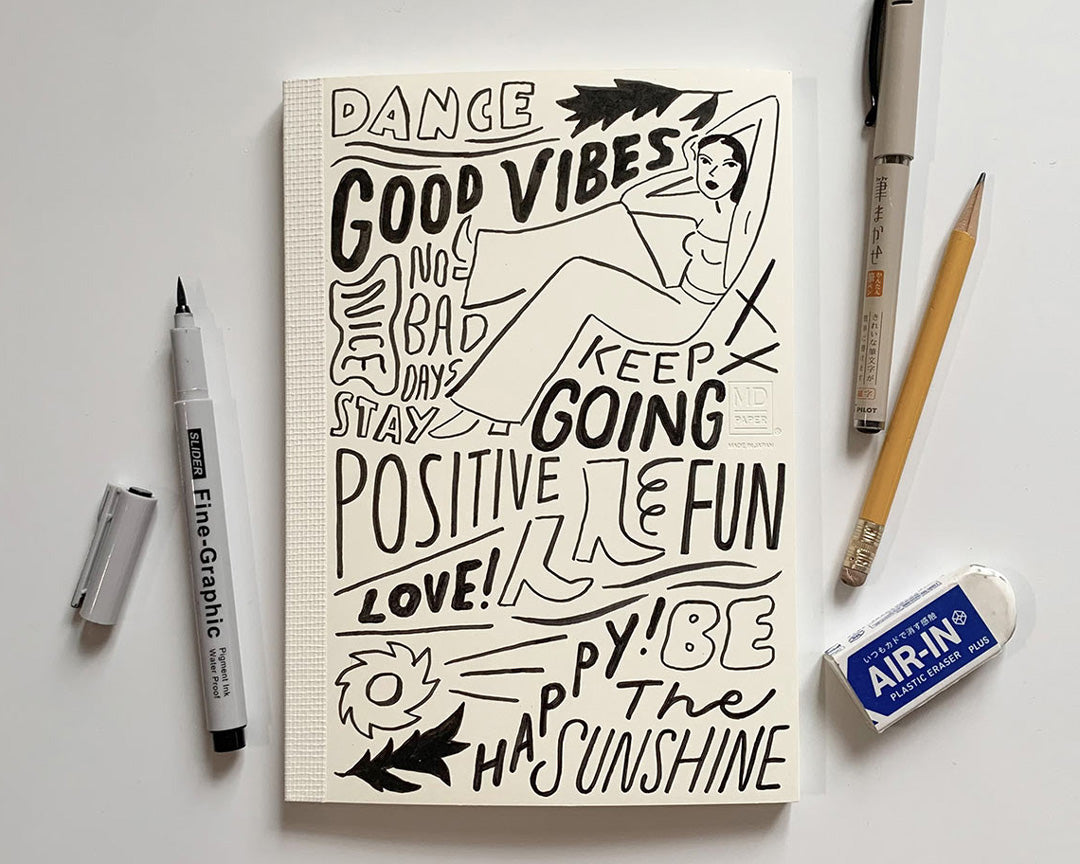 Artist Collaborations
15th Anniversary
To celebrate the 15th anniversary of MD Paper in 2023, they have released some beautifully-made versions of their MD Notebook, in collaboration with some fantastic artists.

They invited the artists to get creative with the MD Notebook and enjoy the way you can write and draw anywhere on an MD Paper notebook, including on the cover! They then created special limited-edition notebooks with the artists' illustrations and writing blind embossed on the covers.

The result is a range of gorgeous and inspirational limited-edition notebooks which we are delighted to stock here at USTUDIO.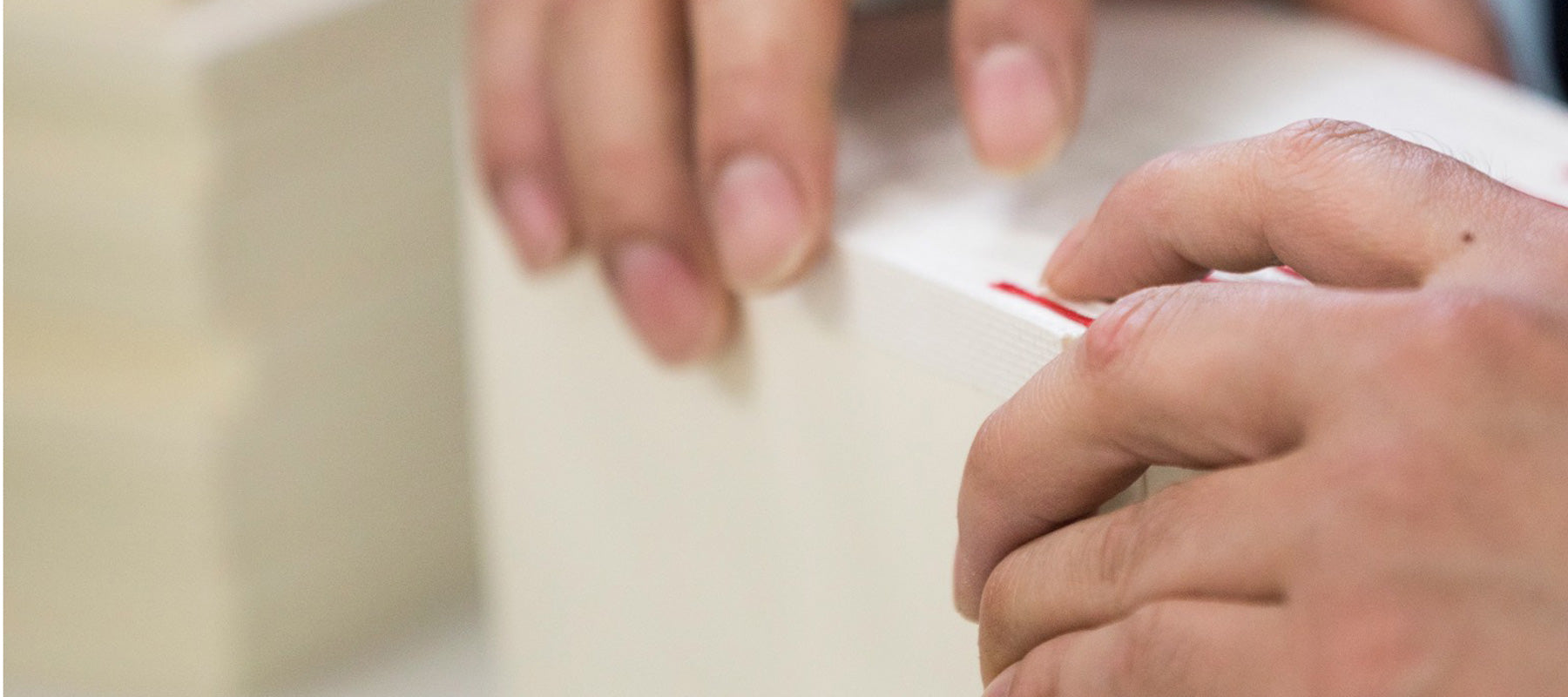 Subtlety, Elegance, Simplicity
Refining Paper
MD Paper Products are simple and understated, Japanese made products that are designed to get the most out of their carefully designed MD Paper.

The brand have been developing excellence in paper since the 1960s in order to continually refine the feel of taking pen or pencil to paper.

MD Paper offer a variety of notebooks, writing materials, and accessories that are designed to enhance the writing and drawing experience.
Getting it Right
Paper for Writing or for Drawing?
The commitment to paper quality means that their approach differs depending on whether you are using it for writing or drawing.
We stock notebooks that use MD Paper (Cream) which are prefect for writing and sketchbooks that use MD Paper Cotton (perfect for sketching and inking.)
The two different papers give a very different experience for the user.
Paper for Writing
MD Cream Notebook
For writing, MD paper have developed a range of cream covered notebooks where the paper grade and composition is designed to get the most out of the act of writing.
To get your thoughts on paper, the paper needs to be smooth enough to keep up a good tempo, without anything slowing you down or breaking your train of thought.

When you're comfortable with the stationery you're using, you eventually get into a rhythm. The words leap onto the page and your thoughts become cohesive.

This is the experience you'll enjoy with MD Paper (Cream).
MD Paper is a Japanese brand that produces high-quality notebooks and writing materials. The brand was established in 2008 and is known for its simple and elegant design, as well as its fountain pen friendly paper. MD Paper products are designed to enhance the joy of writing and drawing on paper, and to celebrate the 15th anniversary of the brand in 2023, they have launched a series of limited edition items and collaborations with artists.
The benefits of MD Paper are that it is resistant to bleeding, feathering, and show-through, which means that the ink does not spread or seep through the paper. It also has a smooth and comfortable texture that does not scratch or snag the pen nib. Moreover, it has a natural and warm color that is easy on the eyes and enhances the contrast of the ink.
MD Paper is made from pulp that is carefully selected and processed to achieve the optimal balance of strength and softness. The paper is then coated with a special formula that improves its ink absorption and durability. The paper is also tested and inspected to ensure its quality and consistency.

MD Cotton: This paper contains 20% cotton pulp, which gives it a soft and fluffy feel. It is ideal for fountain pens and watercolors, as it can handle wet media well.

MD Cream: This paper has a cream color that is gentle and soothing. It is suitable for writing with dark-colored inks, as it creates a striking contrast.

MD White: This paper has a bright white color that is crisp and clear. It is compatible with any type of pen and ink color, as it reflects the true hue of the ink.

MD Grid: This paper has a light gray grid pattern that is printed with water-based ink. It is useful for drawing graphs, charts, diagrams, and other structured layouts.

MD Ruled: This paper has faint blue lines that are printed with water-based ink. It is helpful for writing neatly and evenly spaced lines of text.

MD Blank: This paper has no markings or patterns on it. It is perfect for sketching, doodling, or writing freely without any constraints.

Store them in a cool and dry place away from direct sunlight or heat sources, which may cause fading or warping of the paper.

Avoid folding or bending them excessively, which may cause creasing or tearing of the paper.

Use a blotting paper or a sheet of scrap paper under your writing hand to prevent oil or dirt from transferring to the paper.

Use an eraser gently and carefully to avoid damaging the surface of the paper.









Paper for Drawing
MD Cotton Paper
When sketching or using paint or inks, you need strong, smooth paper that won't form fuzz under friction.
With MD Paper's soft cotton paper, pencil and paint alike spread smoothly.
20% of the material used for MD Paper Cotton is soft-textured cotton pulp to achieve the best possible comfort when drawing.
MD Paper believe artists want to capture images in their mind or the things they see, so they designed this paper so that nothing stands between you and your vision.

Why do we still write journals?
Writing a journal may seem archaic, but studies have shown that getting busy with pen and paper has many benefits to our technology-obsessed, extremely online selves.
Professor James W. Pennebaker and his team at the University of Texas have conducted extensive research on the benefits of journaling.