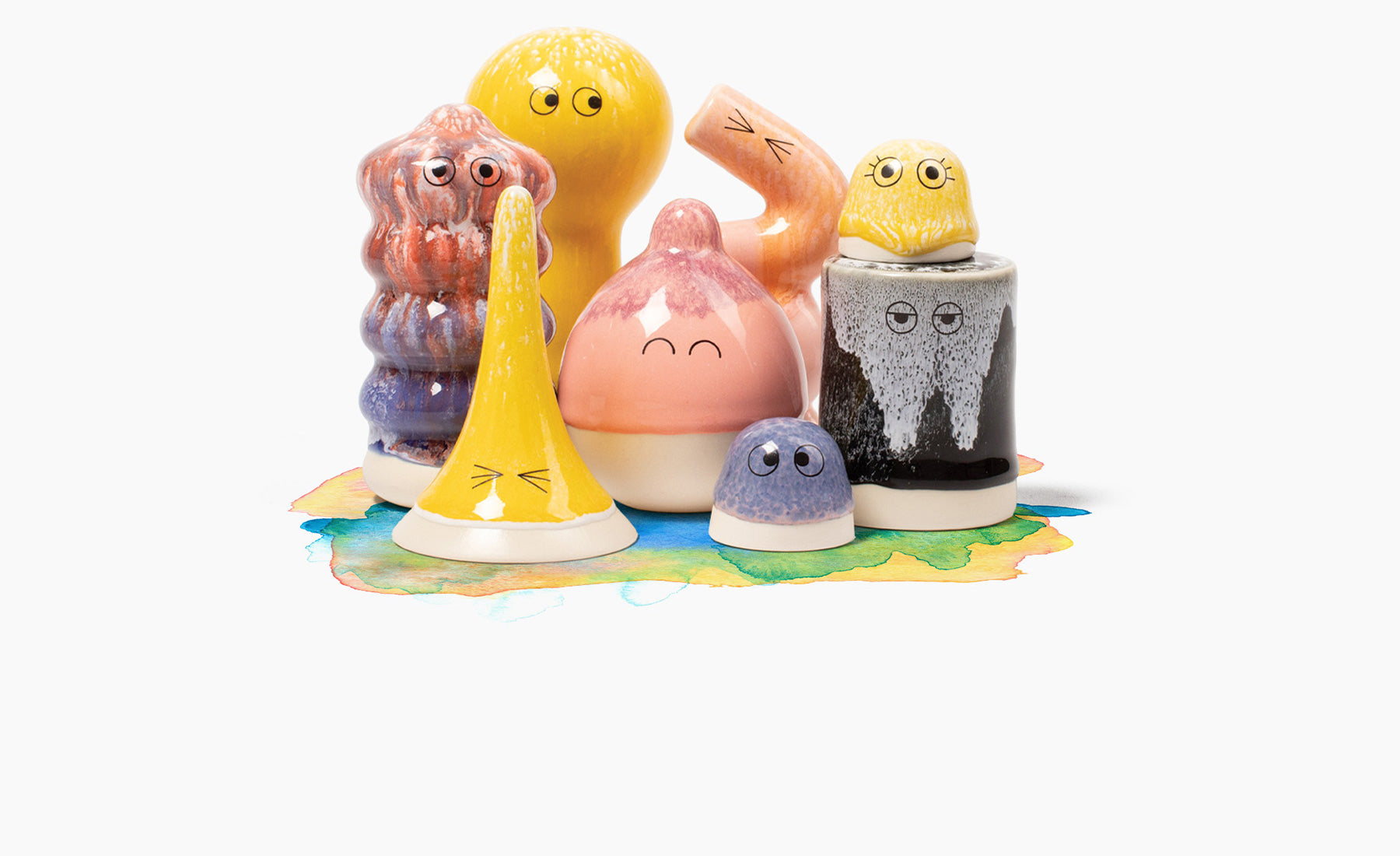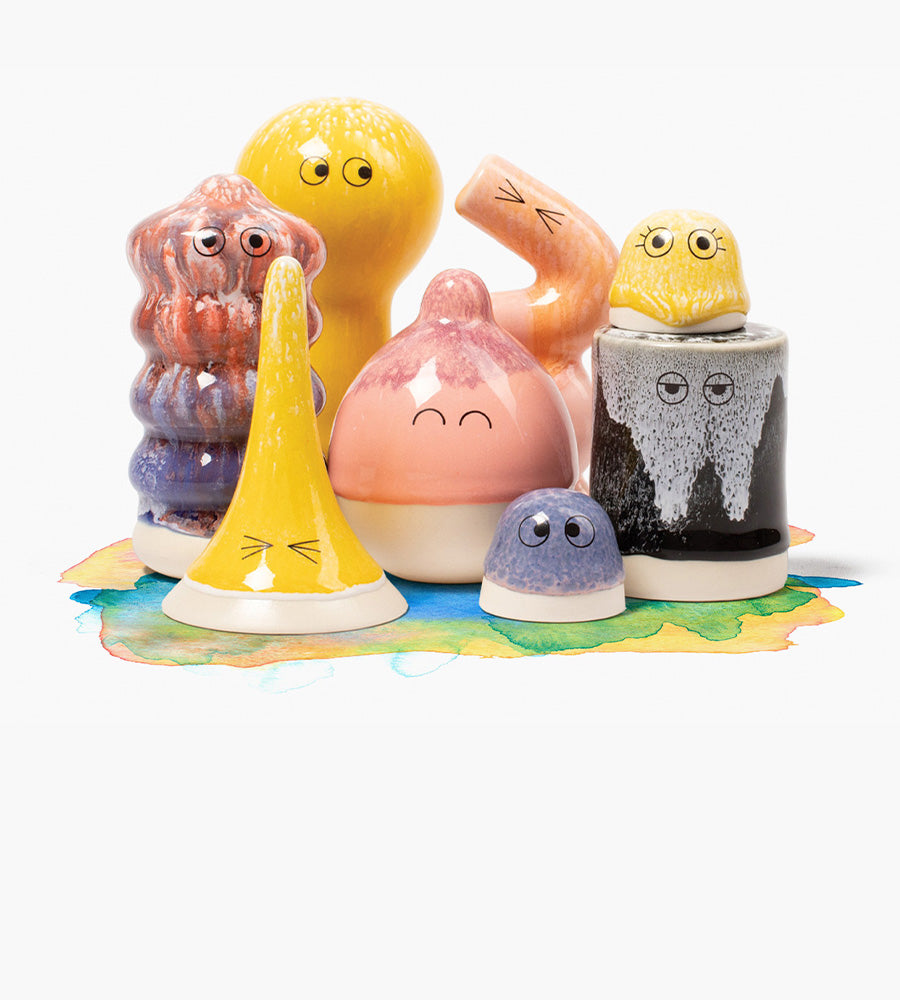 Studio Arhoj | The Art of Play
Anders Arhoj, Founder of Studio Arhoj, talks to USTUDIO
Studio Arhoj in Copenhagen, Denmark, is an independent design and production studio run by founder Anders Arhoj. They make beautiful and charming Japanese inspired ceramics and glass. They are famed for their thick colourful glazes and playful characters. USTUDIO love Studio Arhoj, we've got a lot in common. In fact we love them so much that we have published some of Anders' illustrations as greeting cards!
But more of that later. First let's settle down with a cup of tea and the imagination powerhouse that is Anders Arhoj…
Origins of Studio Arhoj
Anders, we have so many questions! But let's start at the beginning - how long have you had the studio? When and how did Studio Arhoj begin?
Anders: The studio was founded many years ago while I was studying in Japan in the mid-2000s and discovered the very different approach to ceramics compared to the Scandinavian at that time. I was inspired by the shared history of Danish and Japanese crafts, the colours of Tokyo and Japanese character and animation design. When I came back to Denmark and started developing the brand in a combination of what I saw and experienced in Japan and a Nordic / Scandinavian design aesthetic, which has slowly grown to become the brand and company we are now. A company that's been in action for nearly 10 years as it is today.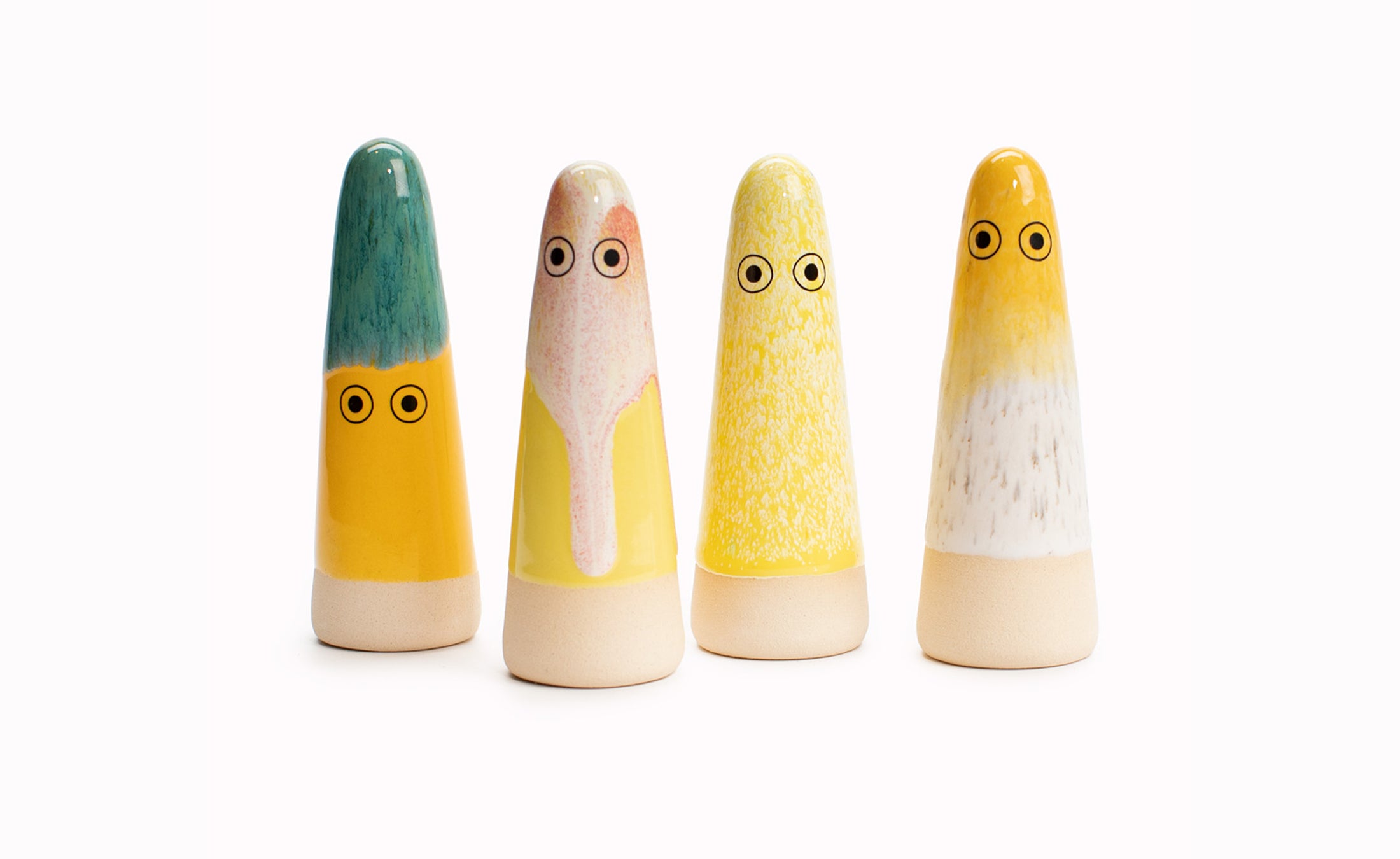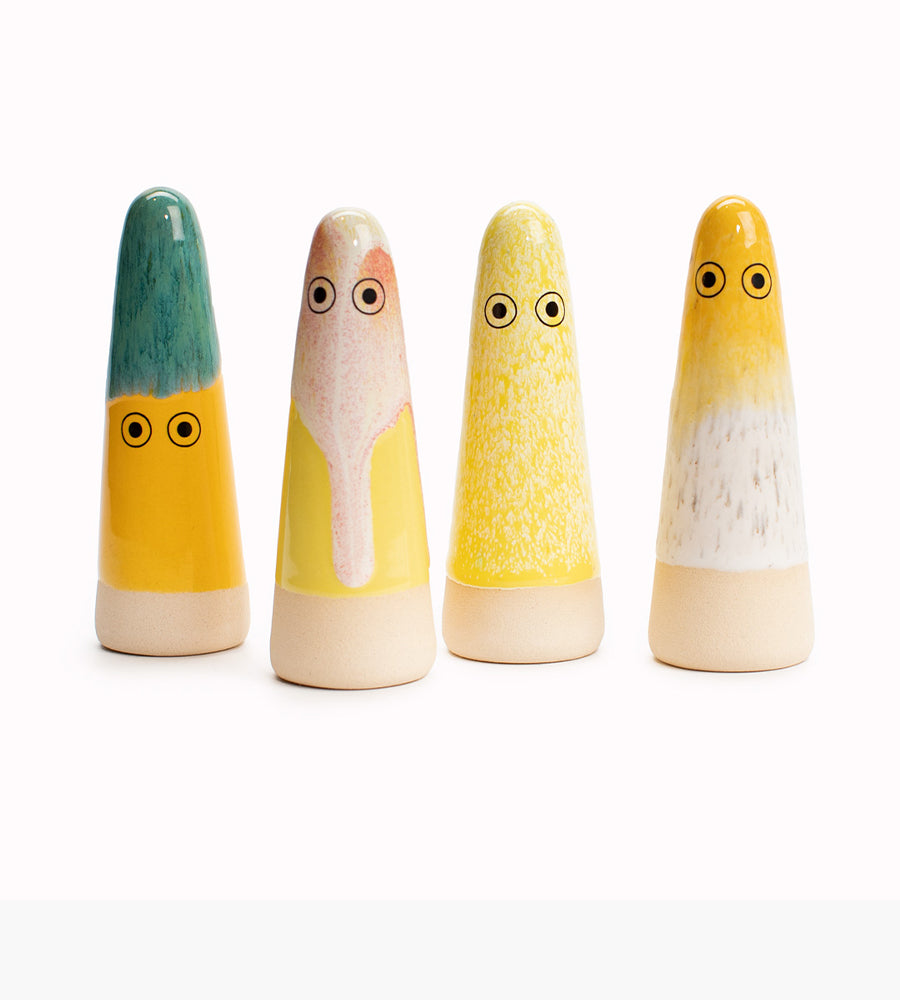 The Iconic Ghost Figurine from Studio Arhoj
The Ghost Figurine
Arguably, your most iconic piece is the Ghost figurine. What was the inspiration behind this?
Anders: Historically, in Japan, there is a religion called Shinto based on the belief that everything we see around us has a soul. You and me, the plant in your backyard, a pebble on a beach... a lump of clay. The Ghost really represents everything that inspired me in Japan; old crafts, vibrant colours, living character and a physical feel of texture. Once the eyes are added the soul of the item becomes apparent, giving the colourful lump of clay life. Each Ghost is still hand thrown and glazed in Denmark, one at a time from raw earthenware clay.
Importance of Illustration
You were kind enough to let us publish some of your illustrations as cards. Where does illustration fit into your creative process?
Anders: I come from a background in multimedia design doing online worlds for Danish broadcasting television, children's illustrated books and restaurant playrooms for kids. Illustration is key to what do at the studio today, from sketches of ideas to final products with a hand drawn look. I mostly decorate our wares myself making it possible to buy completely unique items.
Childhood Stories
Your illustrations would work well as children's book characters. Are there stories from your childhood that have stayed with you?
Anders: Maybe. I grew up in the countryside in the 1980's playing in the woods and making up games and stories every day without many friends around. I only watched television 30 minutes a day and had no phones or computers, or parents interested in playing with kids, so it was up to me not to get bored. I also read all book and comics I could get a hold of, and I think that allowed my imagination to go wild! I drew for hours almost every day and came up with characters and worlds inspired by what was around me at that time: Astrid Lindgren books, Jim Henson's Muppet Show, The Children's Channel on satellite TV, The Moomins, Master of the Universe toys, Indiana Jones movies and whatever fed the young kids of that era.
The Familia
The hugely popular Familia seems to be an extension of these kids' illustrations and the different shapes give an idea of a collective family of creatures. Are there plans to introduce new shapes and styles? Do you see this collection continuing to grow and evolve?
Anders: The Familia collection has grown and evolved, as any family does, from the beginning. Every year or two we drop a shape and bring a new one into the fold. Only three or four of the shapes from the initial release are still in production. As long as we're making Familia, we'll be bringing new shapes to the fold.
Japanese Influence
You spent time studying in Japan and the output of the studio appears to have a Japanese leaning. How much did this time in Japan influence you and your work?
Anders: It definitely had a huge impact on my life. It's a very aesthetic society - in ways that are different and yet similar to Danish design. The traditional art of craftmaking in natural materials such as wood, rock and clay resembles the humble works of Danish farmers and workers of past times spoke to my love for clean shapes and not a lot of ornate dizzy dazzle. But another thing I found in Japan was the humour and "genkiness"* - the sort of good spirited gel that is found in the Japanese society - the signage, product design and cultural visual language in TV, anime and public space design that invokes positive "yes we can do it!" feelings. *there isn't a straight translation of "genki" to English but it means "fun", "exciting", "full of life."
A Day in the Arhoj Studio
You always seem flat out and busy! Tell us about the studio and what a typical working day would look like. Do you ever get a break?
Anders:  A break!? What is that? Haha. As a business owner, founder, designer, etc., etc., I am always on the go. The studio has grown quite quickly over the last few years, which is great, but also involves a lot of work behind the scenes. As the only 'designer' in the company I'm also responsible for product design and do a lot of production of items myself. I obviously have a great team working alongside me, they help with designs, sometimes coming up with their own ideas to bring to the table. Ultimately, as my name is literally on the door, every decision falls on me. It's a lot of work, but super fulfilling.
My team is constantly reminding me to take breaks and pushing me to take a holiday now and then, but it's difficult to leave with so much going on. I'm lucky to have built (with the help of my fantastic team) such a great company and still remain completely independent. We do what we want, when we want to, how we want to... we don't answer to anyone but ourselves.
There are rarely typical days here, but I'm usually up quite early. I fix myself some coffee and head into the studio. I check the kilns with our production manager, take notes on what's coming out, how things are going. I might have a design meeting with our Head of Sales and a member of the team, to throw ideas around. If I'm lucky I can get away from my computer for a few hours and glaze, sculpt, assist in our hot-shop. And suddenly it's 5pm and folks are headed out. I sometimes spend a few extra hours glazing or sculpting when the studio is quiet, then I head home. Sometimes I continue sketching at home, I might play with my PS5 for a bit, try to catch up on my growing pile of books, then it's to bed and do it all again tomorrow.
Copenhagen
Copenhagen is somewhere we would love to visit. What's it like there and where would you recommend us to go (apart from Studio Arhoj of course!)
Anders: Copenhagen is a great city. You get a bit of the big city life, there's always something going on, but also this great almost small-town by the sea vibe. Top five things to do in Copenhagen: Take a harbour tour, visit Louisiana Museum, pick an old classic smørrebrød place to do a lunch (Schönnemann is the best), take a stroll through Tivoli Gardens and, maybe book a dinner at any one of the amazing restaurants here in the city.
The Hotbox - Experiments with Glass
The studio repertoire appears to expand all the time, with the latest experiments being in glass rather than ceramic. How did you find the change and what made you look at glass as a medium?
Anders: I've always had these little vintage glass figurines of animals at home, which I love. I've always had the idea, on the back burner, to do characters in glass, but it's a huge undertaking and wasn't something I was personally versed in. Some folks might remember an attempt at a 'glass' item many years back, our Prism paperweights. We didn't make them ourselves and we weren't super happy with how they came out, so we put our focus back on ceramics.
Eventually we hired someone for our glazing team that had a background in glass. When COVID hit we found ourselves with some time on our hands, so we went ahead and booked a hot shop outside of the city and started experimenting. It was a LOT of fun and kind of put a breath of fresh air into our product line and production process. It was exciting and fun to see ideas come to life, to push the envelope a bit in terms of what we were able to do as a design studio. When we decided to move into the city, we thought hard about opening our own hot shop... it was a big decision as it's super-expensive to set up and operate, but we decided to take the plunge and go for it. I'm so happy we did. It's really been a fun challenge. We're still learning and growing in the medium but hope to expand on it quite a bit in the not-too-distant future.
Commerciality vs Creativity
The studio produces one offs and limited-edition pieces which become collectible works of art rather than commercially driven. It must be great to have fun in the studio but how important is it for you to balance of commerciality vs creativity? What do you get out of doing very limited pieces?
Anders: I am a designer and illustrator, I'm not a ceramicist or a glass blower, I just work in visuals. If I had to focus only on what sells, I don't think I'd have stuck with this project (the studio) this long. I have to have the space to play, create, develop, draw, shape... I need that every day. I would love more time for it. Having said that, the studio also needs to stay afloat. If we have a hit on our hands, we'll run with it. It's another benefit of being independent, not having a board or anyone to answer to. If it's not working, we cut it, come up with something new and move forward.
The Secret of Success
What do you think the secret is to Studio Arhoj's popularity? Do you consciously create products that are commercial or is the commercial side a by-product of you enjoying what you do?
Anders: We do what we love, what makes us happy and what brings a positive vibe to our lives. We're lucky that people have come along on the journey with us. We never set out to, say, make stuff that we would see on the shelves at Louisiana Museum here in Denmark, but we were fortunate enough that people saw what we did in the products and agreed that the colours and shapes and feel of the products bring something special to the table. And, in turn, our products ended up on those shelves. There has never been a 'business plan' or a larger strategy, so to speak, that was about pushing product and growing into a beast of a company, we took our time on a fun path of happy accidents and design choices, doing what we love and, by chance, brought people from all over the world with us.
Any clues as to what you are planning next? Or is this top secret?
Anders: We always have a million things going on here at the studio. Lots of ideas, sketches, prototypes... there's a lot going on. Can I spill any secrets here? No... but use your imagination, it's what we do every day…
Many thanks to Anders for his time and you can view our Studio Arhoj Collection here.